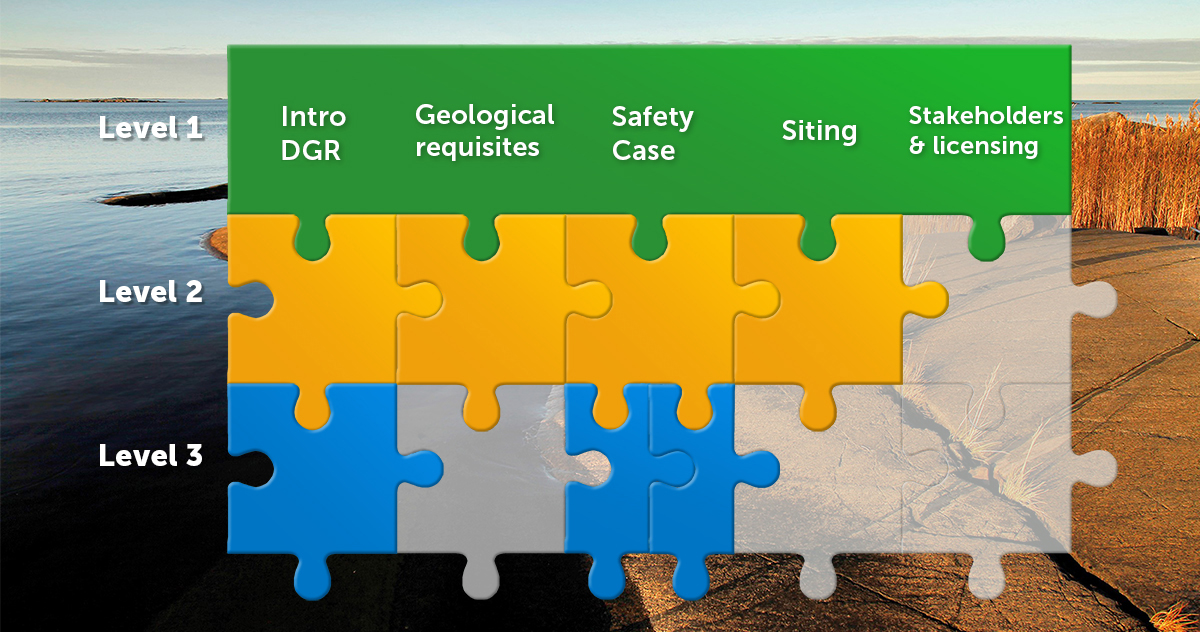 Course structure
SKB International offers both online and onsite courses. These courses can be tailormade to your needs, both in content and location.
Our courses are designed on three levels, aimed at different job types and levels of knowledge. Through their range of different topics at different levels, the courses make up a complete knowledge package for a nuclear waste programme.
Level 1
Only one course on level 1 is organised, giving a comprehensive introduction to what a programme for the geological disposal of nuclear waste involves.
The target group is mainly all persons working with different parts of a nuclear waste disposal programme with a need to understand the whole picture. It is also suitable as an introduction to new employees.
Level 2
Courses on level 2 give personnel from different disciplines a more in-depth presentation of some of the most crucial areas:
Geological conditions and an introduction to Engineer Barrier Systems (EBS) – to meet the multibarrier requirement, to provide information for the next step.
Safety assessment – to give the basics, how to meet the requirements, an iterative process.
Siting and site investigations – the whole process from identifying potential areas, site investigations, site evaluation, communication, logistics, etc.
Stakeholder engagement and licensing process.
The target groups for level 2 are mainly management and personnel working in the different areas.
Level 3
Courses on level 3 focus on specific disciplines and give an in-depth and extensive presentation of each discipline.
The target group is mainly experts in each discipline.
Course formats
Online courses
Access to an online portal
Presentation with recorded speeches
Live streamed opening and closing sessions
Onsite courses
Onsite courses can be tailored or structured according to the content of the online courses. They can be held at SKB facilities or your premises.